Subscriber service @ https://www.subscriber.tradingsunset.com
Posts: 10 per trading day
Charts: 30/45 per trading day.
Text: approx' 2000 words per day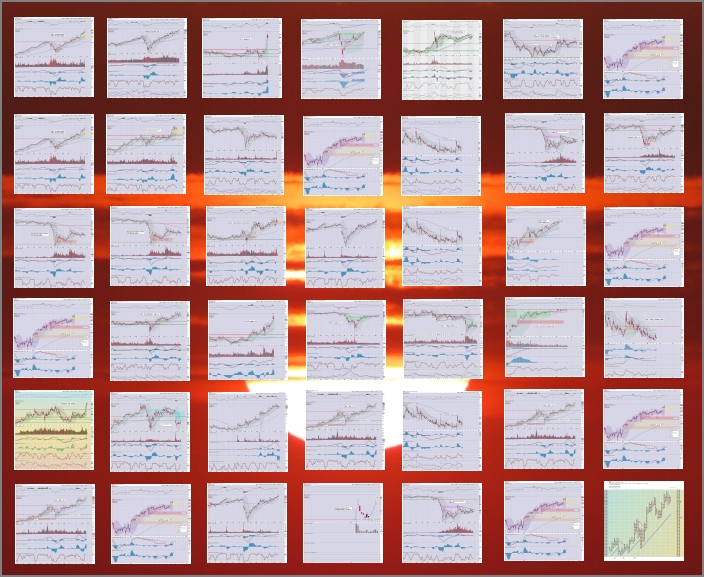 If you like charts, Trading Sunset is for you!
—

Posting schedule (all times EST)

I aim to have a finalised update at the top of each hour during normal trading hours. If there is a market moving event – such as an FOMC announcement, I will occasionally do intra-hour updates.
Whilst I have a standard framework, I will adapt to the market. For instance, if the mainstream theme of the day becomes retail oriented, I will be more inclined to highlight retail stocks. Also, if there is a key event – such as a Presidential Press conf' or Fed Chair speech, I will lean to focus on that.

Typically, I lead each hour with the SPX and VIX 60min candle charts, for the short term perspective. Further, I will usually highlight 3-4 individual stocks.

–
8.30am – Pre-market brief – overnight futures action, the s/t cyclical setup, earnings, early movers, and Asian/European markets,
10am – early morning price action.
11am – mid morning, often taking a look at bond prices/yields, and the related financials.
12pm – Cheerleader time, SPX/VIX, and 2-4 individual stocks.
1pm – Oil and Energy, a look at WTIC (via USO), and the ETF of XLE
2pm – Metals and Miners, a look at gold/silver (via GLD & SLV), the ETF of GDX, and usually at least one of the individual miners, such as GOLD, NEM, and PAAS.
3pm – Into the close, including those companies with earnings due in AH.
4.05pm – Closing Brief, usually inc' 2-3 individual stocks.
—
There are also two posts in AH, which typically appear by 5pm EST.
– VIX and Index update – a look at volatility, and usually 2-3 equity indexes.
– Looking ahead – to the next trading day, including econ-data, earnings, and any market related events. I aim to place the short term noise, within a grander perspective, taking a look at the bigger weekly/monthly candle charts, and any other miscellaneous issues/news, such as the Fed.
–
Page last updated – 25/8/2020